Register
2019 Fall High School Evaluation Camp Sunday, October 27th Baseball
MonTueWedThuFriSatSun 9:00am to 4:30pm
Pitchers Only Fees

Regular

$185.00

per player + 6.0% Processing Fee
Camper Fees

Regular

$230.00

+ 6.0% Processing Fee

The Hawkeyes 2019 Fall High School Evaluation Camp is open to any and all high school players in Grades 9-12 and features instruction along with a pro-style workout and evaluation by the Iowa Baseball coaching staff. Pitchers and batters will also face in a live game on Banks Field.
The camp is a critical component in construction of our 35 man varsity roster. This is a great opportunity for exposure, not only to the Hawkeye staff, but also other colleges, universities and scouts. Players are encouraged to register early as there are attendance limits our Fall Evaluation Camp sold out!
Participants receive a camp t-shirt (to be worn as a jersey during the camp), lunch and evaluation card.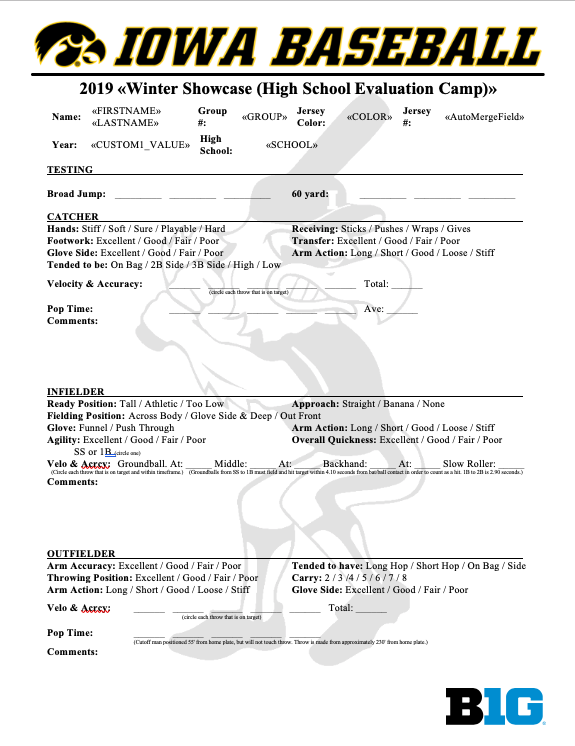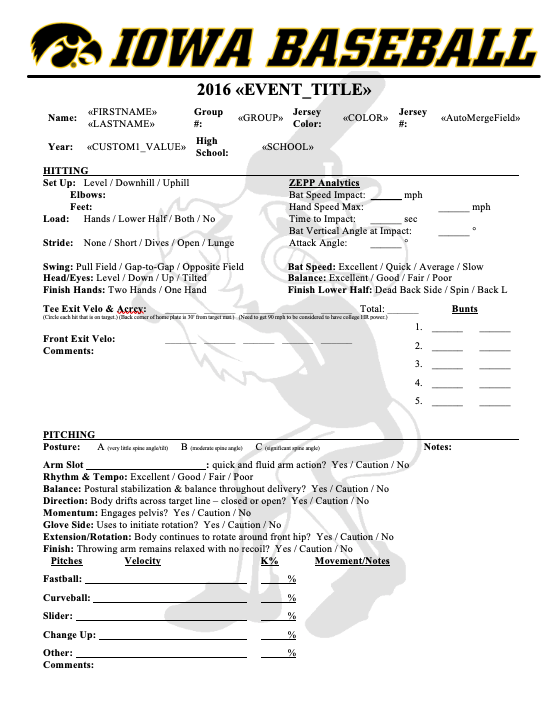 ---
IMPORTANT NOTE: Please register for the position(s) you want to be evaluated at for the college level. Many high school players play multiple positions for various reasons. For this camp, sign up for the position(s) you feel you are best suited to play at the college level.
Pitcher and another defensive position - will pitch at least one (1) set against a batter.
Pitcher Only's (PO's) will be guaranteed at least two (2) innings durning the game (
---
Tentative Schedule of Events
Welcome & Warm Up
Pitching

Pitching Instruct
Pitching Evaluation - done in cage setting against a batter and will include video capture & pitch velocities

Hitting

Hitting Instruct
Hitting Stations
Hitting Evaluation - will include video capture, exit velocities, Blast readings and at-bats against a live pitching.

Defense

Throwing Program
Defensive Evaluation

Choose from infield, first base, catcher or outfield. (You may choose to be evaluated at more than one position.)

Strength & Conditioning

Strength & Conditioning Lecture
Strength & Conditioning Evaluation - will include 60 yard run with electronic timing system, standing broad jump and other measures.
---
Fall High School Evaluation Camp
Date(s): Sunday, October 27, 2019
Location: Jacobson Athletic Building, Indoor Practice Facility (indoor football), Rec Building & Hawkeye Tennis and Recreation Center (HTRC)
Check In: Banks Field 8:15am-8:50am
Time: 9:00am-4:30pm (approximated ending time)
Ages: Any and all participants 9th - 12th grade
Cost: $230 Pitcher Only: $185
Registration Deadline: October 20, 2019
Each camper must bring his own baseball equipment, including: glove, bat, helmet, hat, running/turf shoes and any other equipment they feel necessary to compete. Participants should wear baseball pants during the camp. Catchers must bring their own gear. The University of Iowa Baseball program will not be responsible for lost items.
Iowa Baseball Camps are open to any and all participants, limited only by number, age, level, and/or gender, as required by NCAA rules.