Attention all Campers!
Are you ready? The University of Iowa Holiday Baseball Camps is here â?? weâ??re looking forward to having you in attendance! Below are several informational points regarding the day(s):
Check in begins 30 minutes prior to the start of camp.
**Check will Start 30 minutes before Camp. 
Click on the following hyper-links to get directions.to the Indoor Football Practice Complex
http://www.iowabaseballcamps.org/locations
 Also see aerial photos below. Please note that there are different locations.

Pitcher/Catcher & Offense/Defense Camp location and parking. Click on links to get directions from Google Maps.
*Please do NOT go in the main entrance of the Hansen Performance Center. Instead, enter on the east side near the circle drive that is right next to the entrance of the baseball field. (SEE PHOTO BELOW)
Address to IPF
992 Evashevski Dr
Iowa City, IA 52242
                                               i.     Hospital Parking Ramp 3 or plug the meters outside the IPF entrance.
1.     It is suggested to pay for parking as there is always ticketing patrol on duty. (SEE PHOTO BELOW)
Please wear baseball pants, socks, belt and cap. We like seeing Iowa gear too! Be sure to tuck shirts in and wear your uniform and cap like a ball player should.
Equipment to bring (please put your name on all equipment):

A second pair of tennis shoes to be worn indoors only. Camp will be held on turf and flat-bottomed tennis shoes will be best.
Bat (metal, wood or composite are all acceptable).
Glove.
Helmet.
Catchers bring your own equipment â?? we do not provide catchers gear.
Water bottle. Drinking fountains will also be available.

A limited supply of Iowa Baseball caps and t-shirts will be for sale.
Parents, family and friends are invited to watch! (You can also drop your son off and leave him with us for the camp.) There is not seating in the IPF so you may want to bring a lawn chair for comfort.
| | | | |
| --- | --- | --- | --- |
| 5th-8th Grade Pitcher/Catcher | Thursday, December 27, 2018 | 9:00am-12:00pm | Football Indoor Practice Facility (IPF) |
| 1st-4th Grade Instructional â?? Session | Thursday, December 27, 2018 | 1:00pm-4:30pm | Football Indoor Practice Facility (IPF) |
| 5th-8th Grade Offense/Defense | Friday, December 28, 2017 | 9:00am-1:00pm | Football Indoor Practice Facility (IPF) |
Morning Session Day 1 5th-8th Check-in 8:30am
Afternoon Session 1st-4th   Check-in 12:30pm
Morning Session Day 2 5th-8thCheck-in 8:30am
Remember that all camp information is at the touch of your finger.  Try us out on your smart phone. www.iowabaseballcamps.org
All Camp details and direction will be on the site.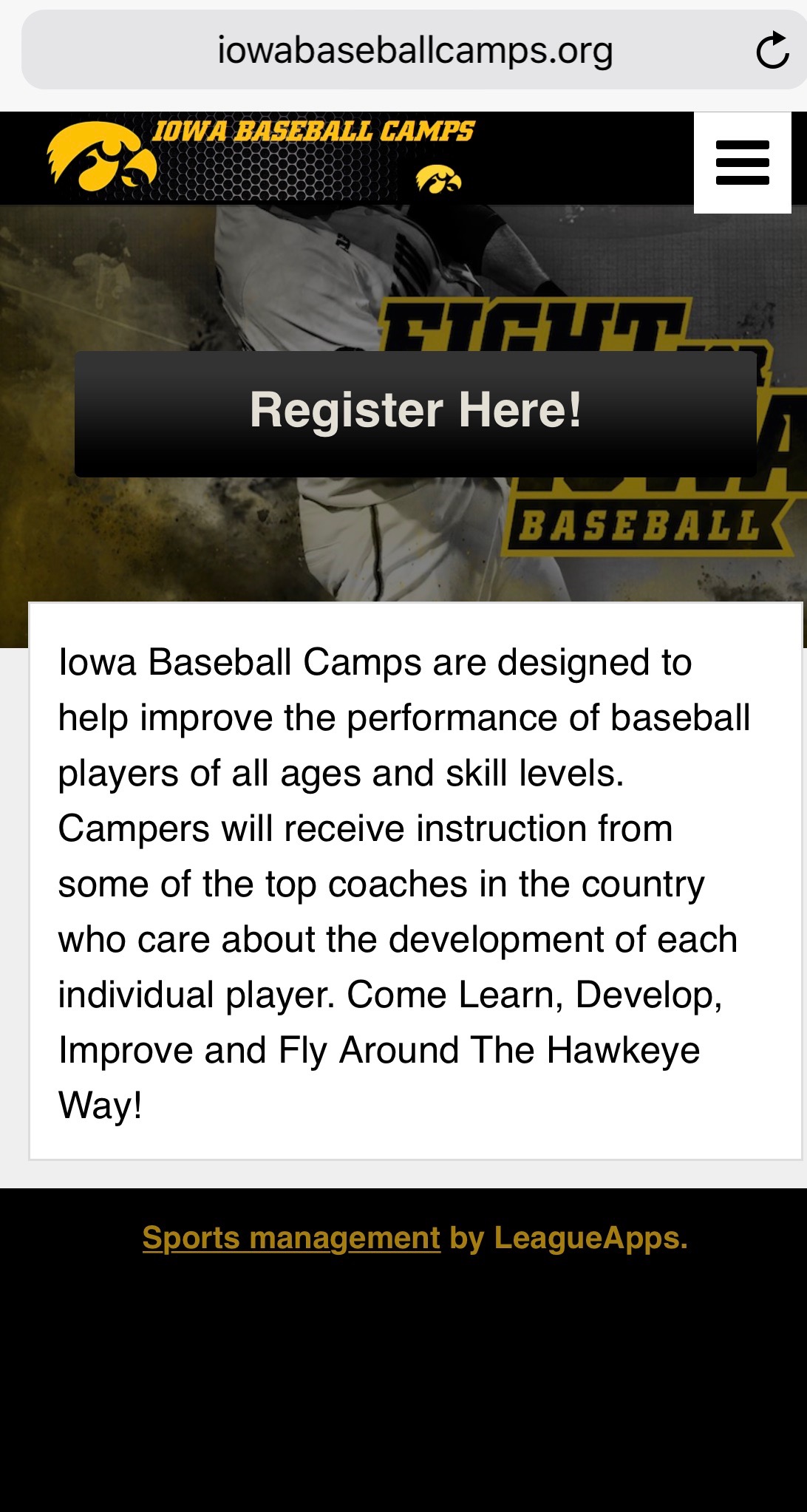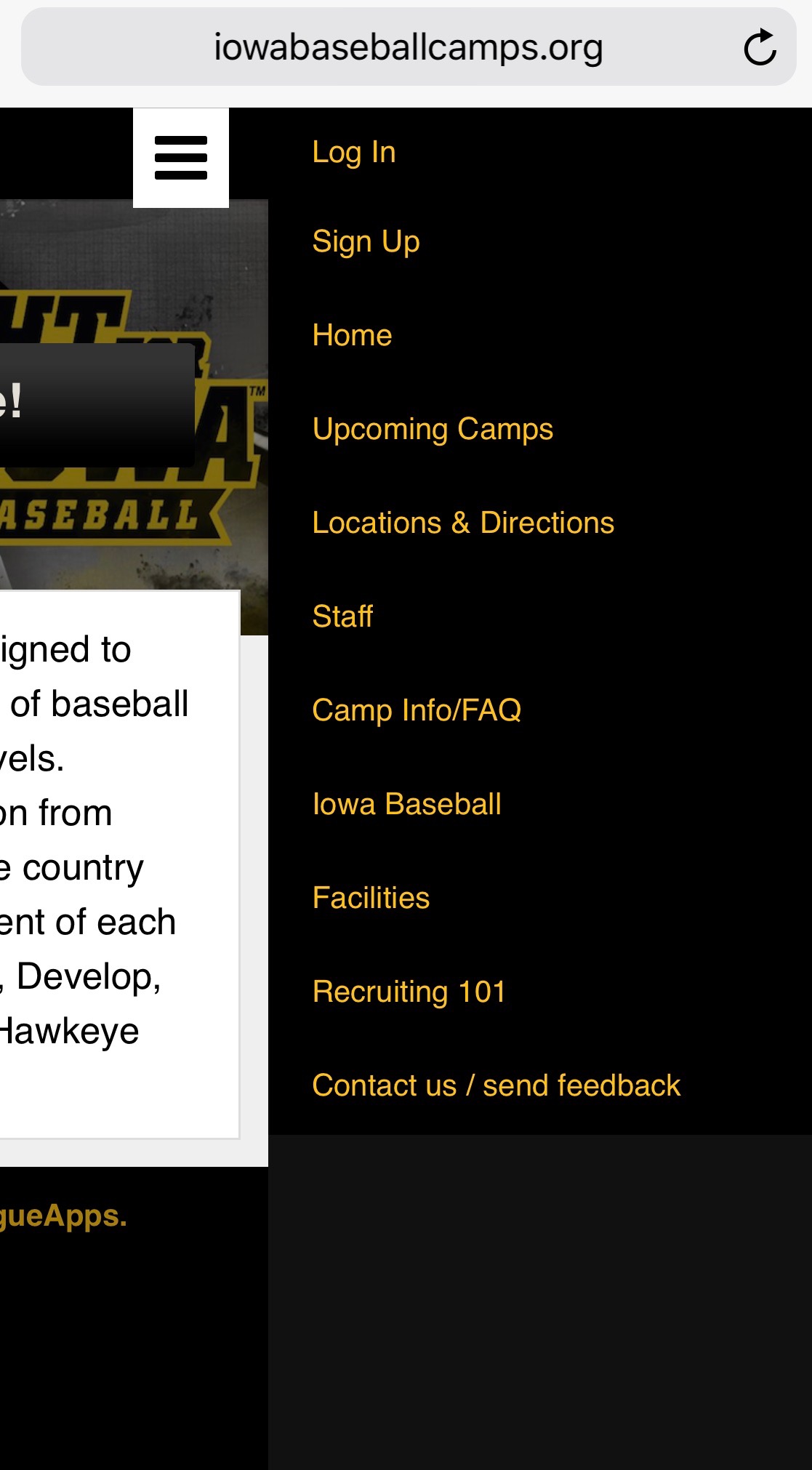 We have the Hawkeyes baseball coaching staff, as well as several current Iowa players, scheduled to instruct throughout the camp â?? it should be a fantastic time.
Travel Safe and we look forward to having you at the camp tomorrow. Go Hawks!!!